From time to time, I like to acquire a game for no other reason than to see what the buzz is. Throwing caution to the wind, not going into extensive research, and deciding to just try a game out myself. What's the worst thing that can happen? I sell it off again and gain in experience more than I lose in money. Granted, I still haven't managed to get rid of my copy of Small City Deluxe with its printing errors and off centre pieces, but I guess even that can be filed under "a lesson learned".
I knew little when I decided to pick up a copy of Shogun no Katana, in fact I hadn't even finished watching all of ThinkerThemer's video about it. There were multiple reasons for me to be interested: I love spatial puzzles like Ricochet Robots, Sagani or Horseless Carriage. Shogun no Katana's central mechanism sounded novel and interesting. The theme of forging katana also was a plus, as was the lush artwork. But ultimately it was the mentioning of a tight economy that a number of people have compared to Woodcraft that got me curious. I've previously written about Woodcraft, so this should be fun.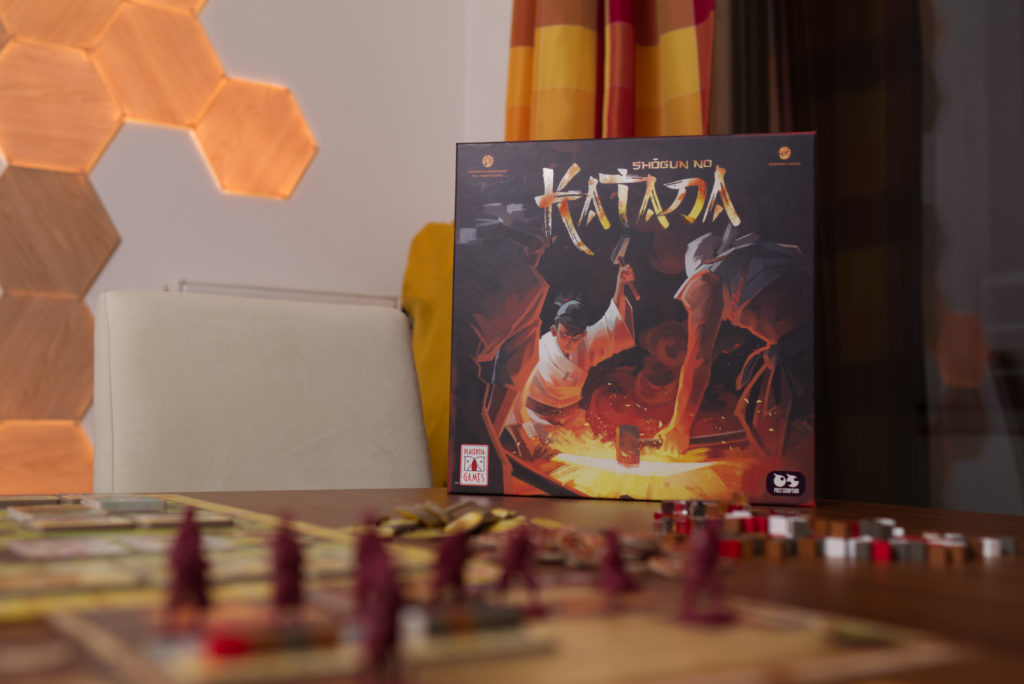 Setup
Even for a retail edition, Shogun no Katana has a surprisingly rich production: There is the main board that features various worker placement spots and two markets (one for resources, one for sword contracts), multiple types of cards, wooden and plastic resource cubes, currency, double layer sword contracts that nicely hold the resources during construction, …
Each player gets two types of player board, one showing a foundry where the swords will be crafted and one where the finished products will be collected to unlock more workers. There is also a set of 4 different types of miniatures with each of the 17 minis being an individual cast: 7 workers (4 being available from the start and 3 to be unlocked by delivering swords), 2 monks (temporary workers that can be bought each round), 3 family members used to mark a certain area on the main board, and 4 decorators that can be levelled up on the main board.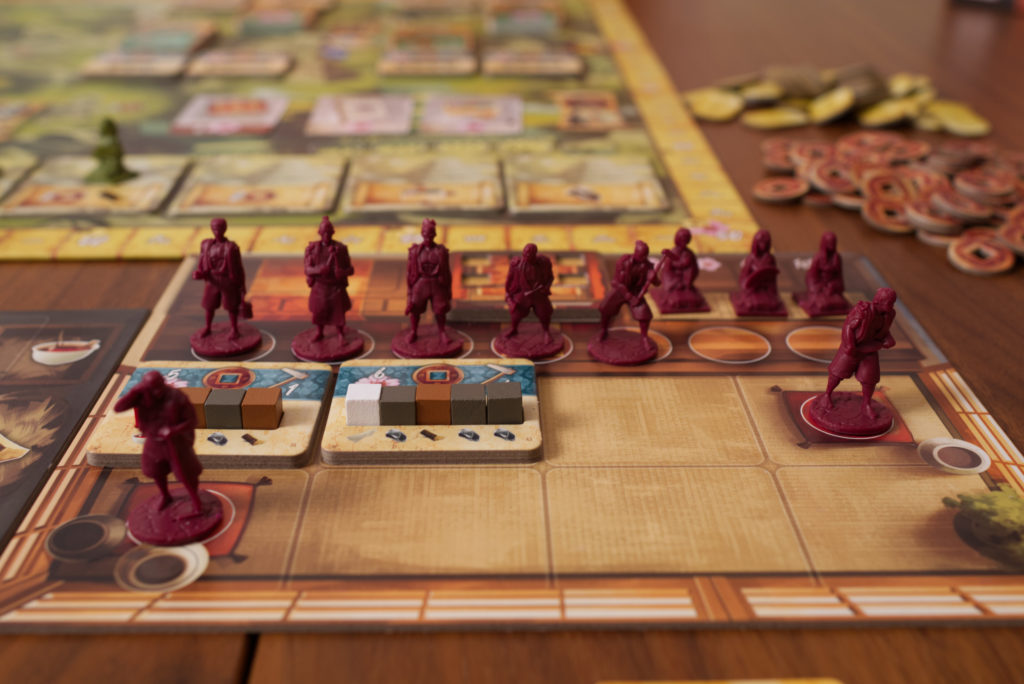 While there are lots of components, setup is done rather quickly because it is mostly about handing out player components and shuffling card decks. There are no components that need to be sorted out depending on player count for example, which is great.
What comes somewhat as a surprise are the two large white cardboard placeholders inside the box. I'm used to seeing holes in my inserts due to Eagle-Gryphon Games (I'm still looking for that Rococo Deluxe Upgrade pack that is no longer available, even though I really don't need that starting player bust). But this is the first time that I get a game and there is an obvious "if you would have bought the expansion content, you wouldn't have to see this". This is especially annoying since one has to take them out every time one plays as there are base game resources stored underneath.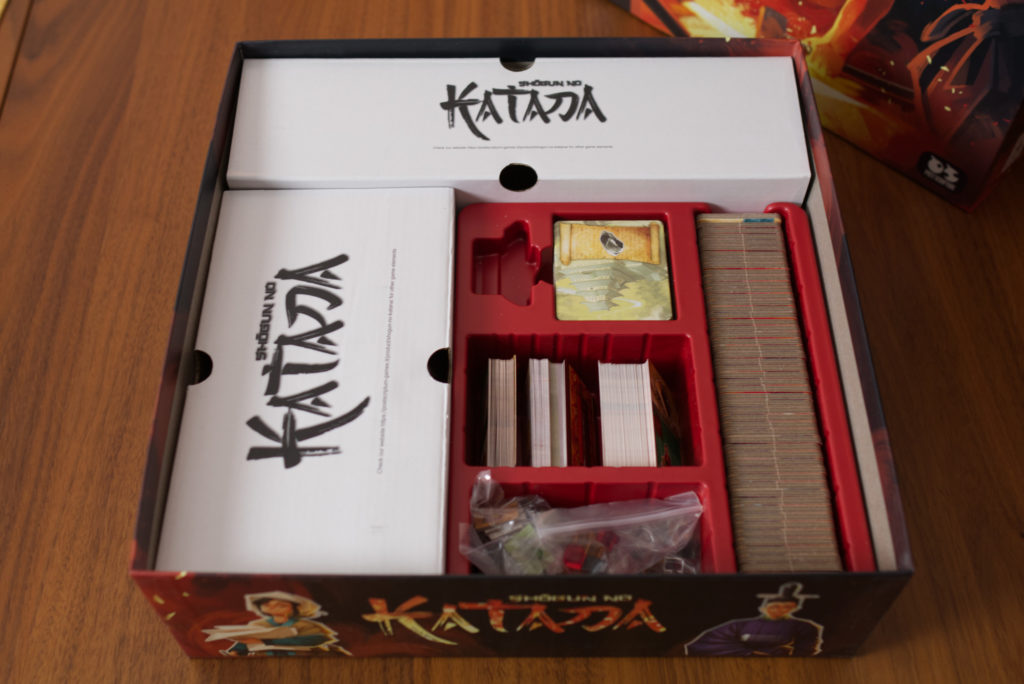 The Turn
Shogun no Katana is played over only 4 rounds. Each turn, the players can pick one of their workers or hire one of their two monks and place them either on one of the action spots on the main board or have them work in their personal foundry. If a player cannot or does not want to use another worker, they pass and end the round for themselves while others might continue to play.
The most important action space is arguably the area where new sword contracts are acquired. The supply of contracts is randomly distributed between four houses of different colour (white, green, blue, red), each with a set of contracts and a card deck. When acquiring a contract, a player simply picks one up, places their worker on the created empty spot, takes a flag tile matching the house and uses it to cover the coin value on the sword. One also gets a card showing an immediate one-time bonus effect and an optional long term effect, more on that later.
Each sword shows multiple icons and numbers: Blossoms represent VP, coins show the money one gets for taking that contract (not completing it), a strength value (only relevant for certain scoring cards and can mostly be ignored), and the type and order of resources how the sword needs to be assembled. This ranges from 3 to 5 resources out of the four available types: wood, steel, stingray leather, lacquer (or how we like to call it due to its iconography: soup).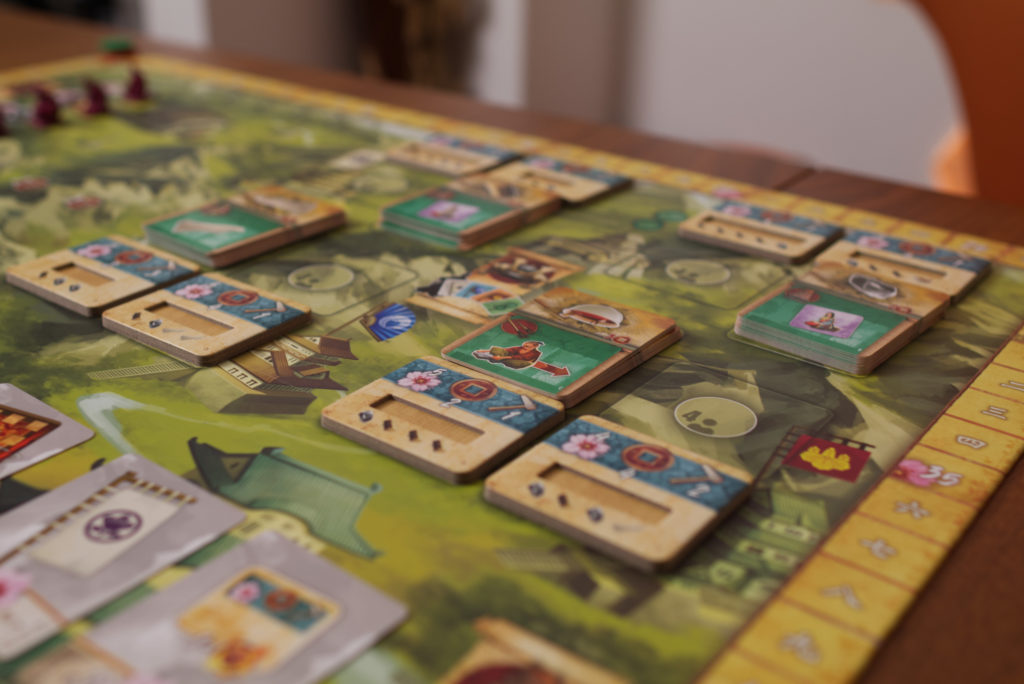 Of course where there are resources, there has to be a market. When placing workers there, a player can buy as many resources as they want, though there is a natural limit as money is always tight. Again, players get also an extra bonus card showing a 1-time/long-time bonus combination.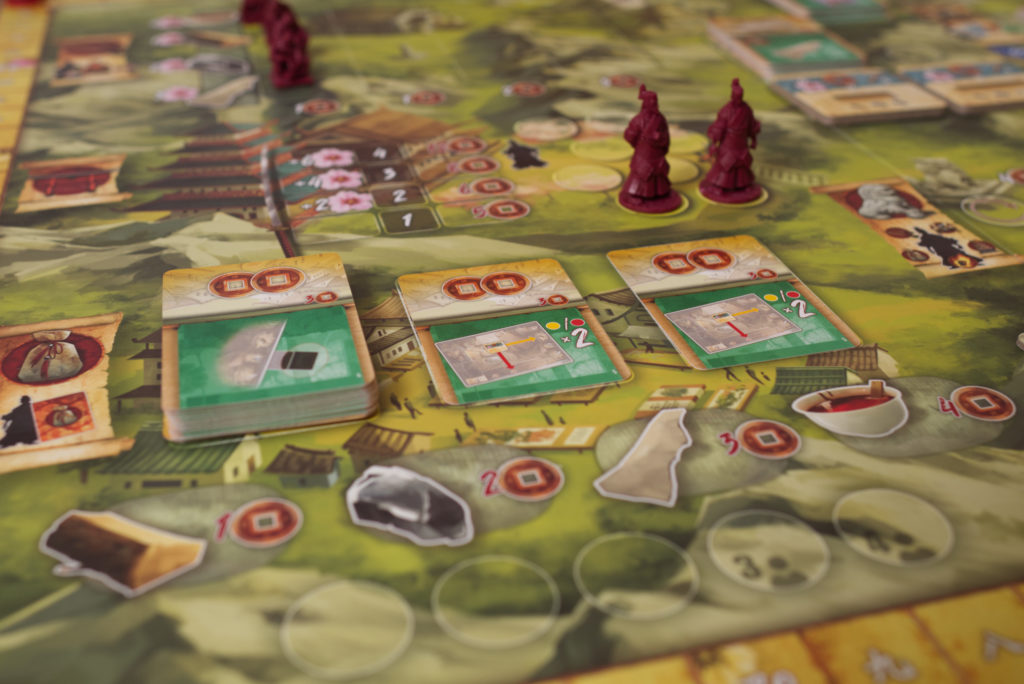 Buying resources is surprisingly expensive, especially considering that picking up a sword contract only provides 1-6 coins and a single soup … sorry … lacquer already costs 4 coins. Luckily, it's quite profitable to decorate swords. When a player sends a worker to this action space, each of their four decorators can decorate a single resource cube of their type on one of the swords the player is currently working on. So at maximum, a player can decorate 1 wood, 1 steel, 1 leather, 1 lacquer with a single action. But that requires good timing and usually at least one or two types are currently not to be found on one's swords or are already decorated. For each decoration done, the player gets coins depending on how proficient that decorator is. And that is the final part of this action: before decorating, the player may advance a single decorator by one step to the right, making it more valuable to use it in the long run. The downside of this action is that if one player goes there, all other players are allowed to do a single decoration themselves for free.
An alternative, moneyless way to acquire resources and other bonuses is the palace. When placing a worker here, a player can take one of their family members and place them on one of the five palace tiles (which tiles are in play is randomly selected during setup). Family members stay on the board and are not recalled at round's end. Instead players can re-arrange all their family members every time they chose this action. After re-arranging, the player gets the bonus printed on whatever tiles they have family members on. This usually provides a small amount of coins, resources or things like a free advancement of a decorator. Again, there is a downside: each other player can activate one of their family members.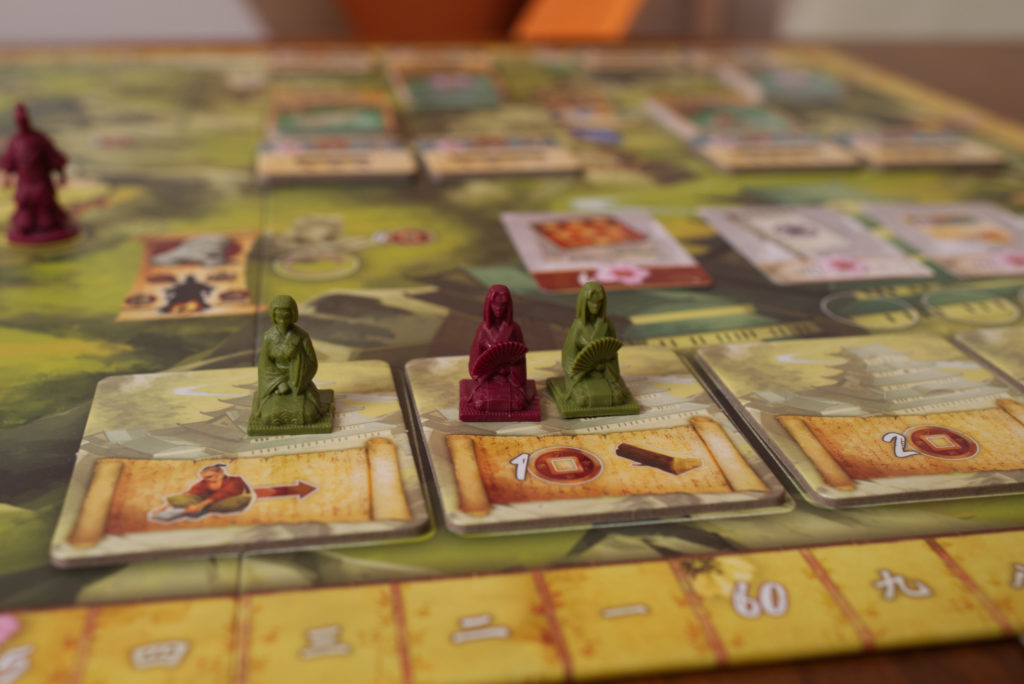 Finally, there is the usual spot to become first player which also grants four coins. More interesting are the two monks per player waiting on the main board. By paying an over the time increasing price, players can buy up to two extra actions each round. Monks come with an addition bonus that depends on where they are used: if send to the foundry, they can work on an additional sword. If send to the academy, they can advance an additional decorator, if send to the sword market, they pick up an extra house flag, and so on. The monks return to their places on the main board at the end of the round.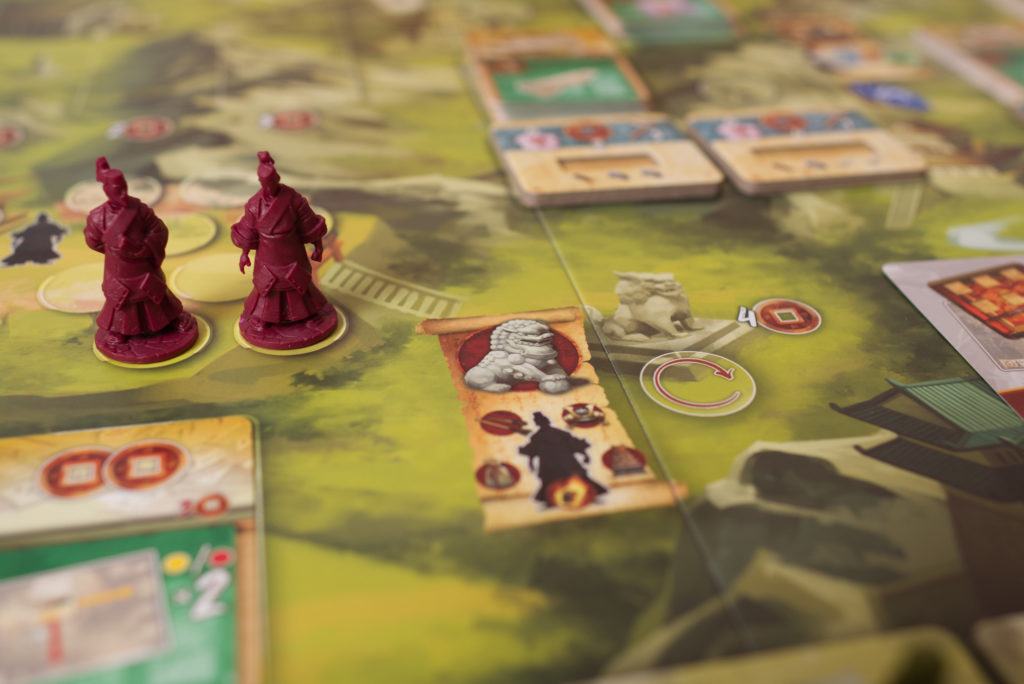 Forging Swords
The final option to use workers is to send them to the person foundry. Whenever a player picks up a sword contract, that sword is placed in the left-most column and in the row that matches the first resource on the contract (each row shows one resource type on the right of the board). When placing a worker in the foundry, the player must choose a single row or column to work in. All swords in that row / column are activated and can move one single step if the player has the next resource in the contract available. The clue about this is: the sword then moves one space in the direction of the resource just placed. If it is the resource of the row the sword is currently in, it moves on space to the right. If it is the resource of the row below or above, the swords moves up/down into that row instead. (note: in the image below, I didn't place the house flags on to the swords to better show them off).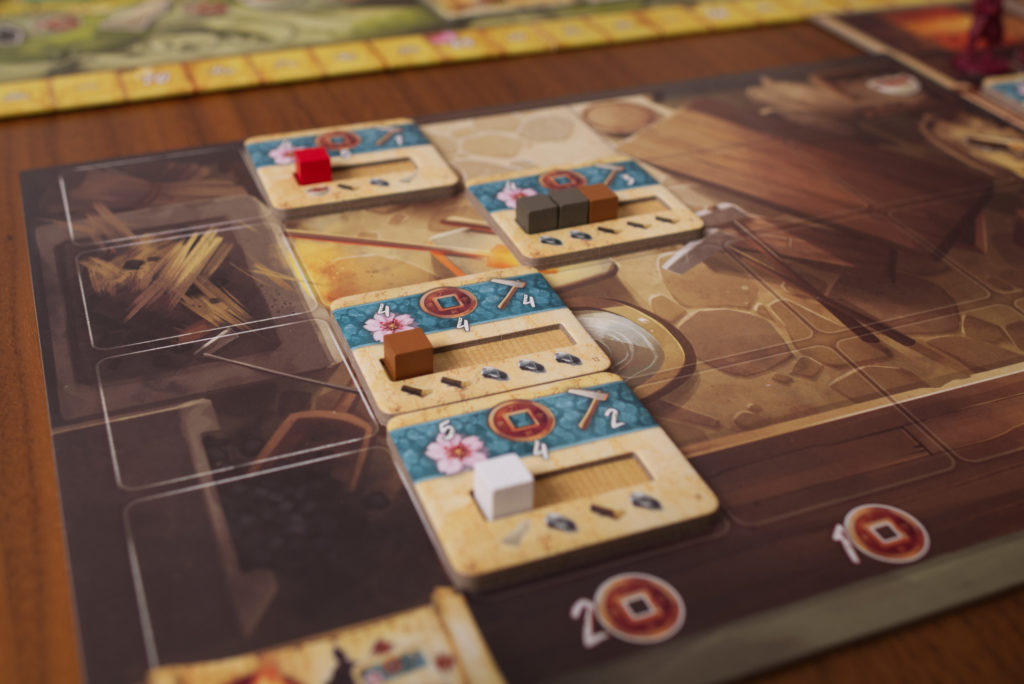 And that is the central puzzle of Shogun no Katana: how to use workers to efficiently activate multiple swords in one go without blocking each other and at the same time make sure all required resources have already been acquired. Once all resources have been placed on a sword, the player can at any time decide to deliver it, receiving the VP printed on the contract as well as the bonus printed in the row/column of where the sword was completed. Additional VP are awarded for every decorated resource on the sword (clear plastic instead of wooden cubes) and – interestingly enough – the later a sword is delivered. While delivering early unlocks additional workers, delivering later provides more VP.
Coming back to the 1-time/long-time bonus cards: Whenever a player uses the 1-time effect, they must also choose whether or not they want to pay the additional price (1-3 coins) printed on the card to activate its long time effect. If so, the card is slotted under the board and associated with one row or column, increasing the resource bonus one gets when delivering a sword that ended up on that row/column).
End of Game
As stated previously, the game ends after only four rounds, so every worker one unlocks or every monk one is able to hire is highly valuable. On top of the points already received during game, there are honour cards players pick up when they pass and end a round for themselves. Each shows a criterium and a multiplier, e.g. get 1VP per decorated resource on all your swords, get 2VP per worker you have on the board at game's end. Remember the different house colours when acquiring swords? Collecting different-coloured sets also generates VPs.
On top of it all, there is the sword that gives the game its name, the sword for the shogun. It can hold up to seven resources and it's up to the players to craft their own recipe: whenever delivering a sword, the player can select up to two resources used in that sword and dump them into an area on their player board. At any point, a player can then use all resources gathered in that way, arrange them to create the crafting-order for the shogun no katana and then place it in the foundry. It has to be forged in the normal manor but produces even more VP than normal swords.
There are a couple of caveats: the shogun no katana can only be started if at least one of every resource is part of the construction-order. There is a special end game card drawn during setup that awards extra points if the katana is crafted in a specific way. And finally, when setting their construction-order, all cubes set a side during delivery of normal swords have to be used. Corrections can be made, but each one costs 1VP and the final score for the katana will be cut in half.
Solo Mode and Campaign
The automa is a standard draw-a-card-and-place-worker type of automa. There are five levels of difficulty, differentiated by the player board that is used for them, dictating how quickly the automa gains additional workers. It works fine and is neither particularly exciting or disappointing. There is a noticeable amount of randomness how well it plays on one hand and on the other, it feels inconsequential to me. Whatever it does, it blocks something and gets some points, but I didn't feel I could actively prevent it from making a particularly clever more or something like that. It once completely tripped me up by doing something that hurt me and a human player would never do: occupy all worker placement spots in the market. In normal play, that would be a huge waste of workers. Overall, I'm glad it is included but it's not really motivating me to bring the game to the table as a solo experience.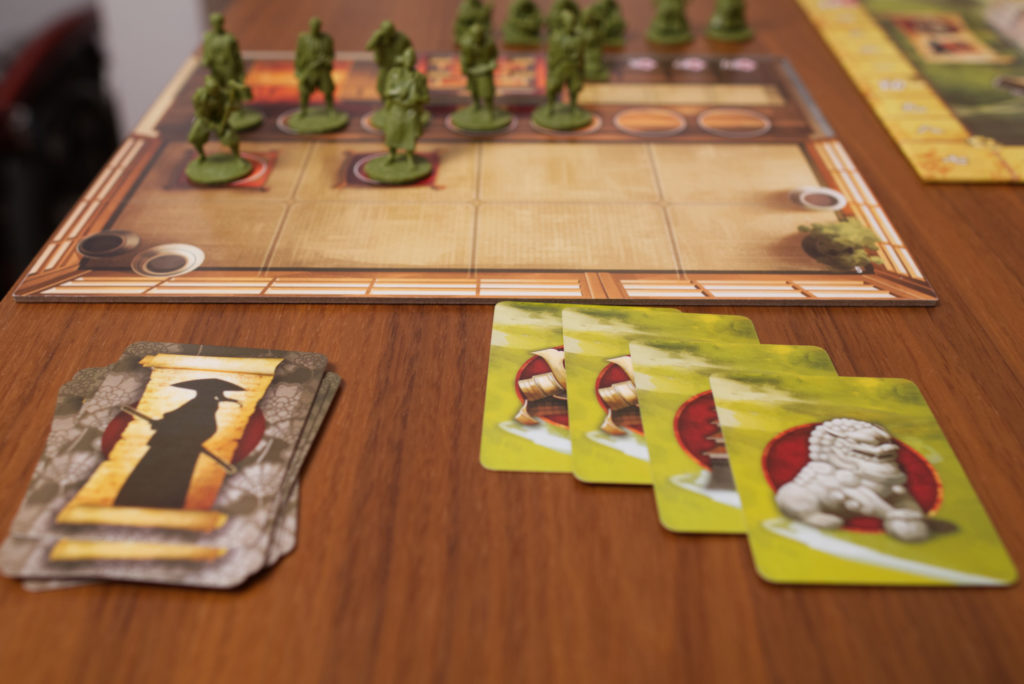 What helps is that the rules include a "campaign" mode. It's a series of challenges such as winning with all decorators at their max or getting a certain amount of VP just from collecting sets of house colour tiles. I started playing it but stopped after a few missions. It also couldn't motivate me to put in repeated plays solo.
Conclusion
Shogun no katana is a joy to play. While learning the game is a bit fiddly with important side constraints being almost hidden and easily forgotten or things that need looking up distributed over various pages, once you get the hang of it, it's easy going. Explaining the game to others is actually quite easy. I wish the rules would have done a better job of structuring the information for a more natural flow. There are lots of helpful images and examples in there, but information gets lost.
The highlight of the game is the way how swords move through the foundry. When picking up swords, it's important to plot out which way the sword will move through the foundry and time it with other swords so they don't block each other. It weirdly reminded me of the lovely Switch and Signal. One also has to consider when to use a monk instead of a normal worker so that one has this one extra sword activation in addition to activating one row or column. This can make the difference between having a beautiful ballet of multiple swords moving within a single action or everything getting stuck. Selecting the right swords gets extra important because getting a few more coins upfront can make it possible to hire an early monk and get in extra actions, kickstarting your whole engine. All of this is interleaved with the desperate need for resources. Sometimes one can time things perfectly and use the resource bonus from delivering one sword to get the resources needed for forging another. In most cases though one has to spent worker actions to get resources from other sources before coming back to forging swords.
And this is the central point where Shogun no Katana lost me. It has a brilliant and fun core mechanism in selecting and managing the swords correctly, but it only takes up what feels like one third of your actions. The rest is spent in gathering money, using it to buy resources or monks, decorating swords to get more money, going to the palace to not lose out on bonuses if another player goes there, etc. On paper, this could have been interesting and mechanically speaking it works, but it doesn't excite me. When playing a Lacerda game like Lisboa or Kanban EV, everything works like a clockwork and no one mechanism could be pulled out without breaking the game. Shogun no Katana feels instead like layers being wrapped around a core puzzle that wouldn't be strong enough to stand on its own.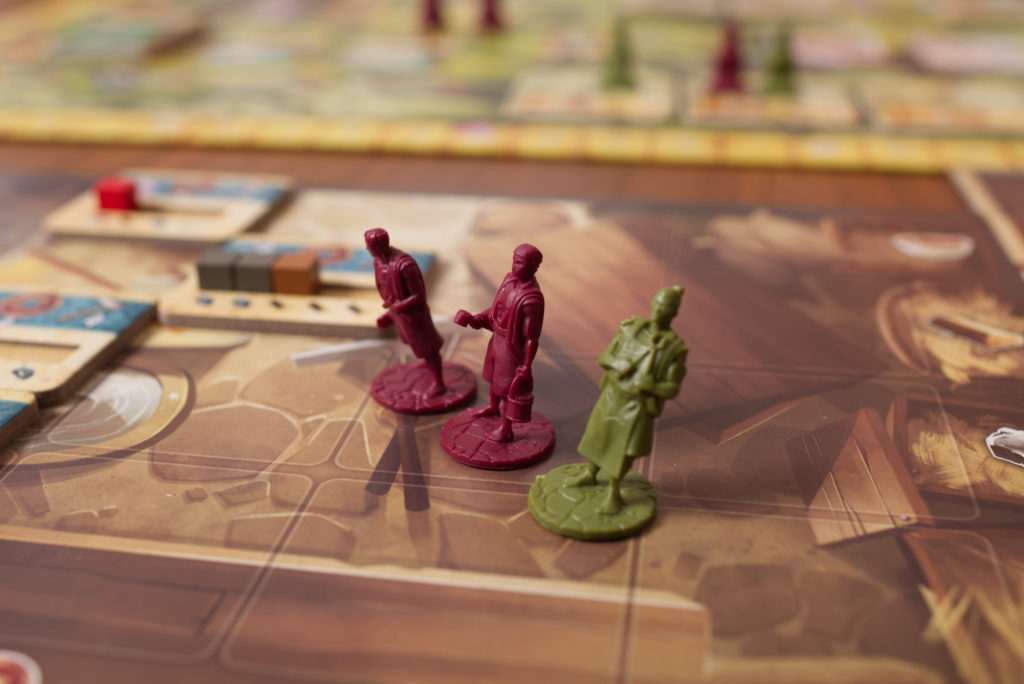 There is the collecting of sets of house flags that feels somewhat arbitrary and adds an amount of randomness to the game. There are the bonus cards that are picked up, which again adds randomness and could have been left out completely. There is the palace which feels like a redundant mixture of resource market and monk bonus action. There are the honour cards that again add randomness because hardly anyone will not use a worker to go out earlier and pick the more opportune card (though they sort of act like a catch-up mechanism, giving more VP to the player that has unlocked less workers). There is the artificial added bonus for using a monk. It goes on and on. Adding so many layers would have been worth it if they opened up different strategies to play the game. For me however, Shogun no Katana feels more tactical and one usually has to invest in all areas anyway, just to varying amounts. I had one game where the palace offered a lot of resources and I therefore only had to go to the regular market once, but in all other games, it felt like I was doing the same thing every time.
Speaking of which, something that sets Woodcraft apart from Shogun no Katana is that it offers a clear, rewarding progression in skill. When I first played Woodcraft, I ended up with 50VP and thought it an impossibility to score 100VP. Nowadays I regularly score in the 170 range. In Shogun no Katana, I immediately scored 6 swords plus the shogun no katana. Granted, I seem to have a neck for spatial puzzles, but still. Lately, I did 8 plus the shogun no katana and I managed to increase my VP a bit, but it didn't feel as much of an achievement as in Woodcraft. Both Woodcraft and Shogun no Katana have a snowballing economy and lose a lot of their appeal once one gets to the point where one "cracks the puzzle". It's just that it happens way sooner with Shogun no Katana.
The mental split between interesting spatial forging puzzle and added-on-top worker placement also reflects in the artwork for me: I really love the aesthetics of the foundry's red and brown colour scheme with the double layer swords and their wooden and plastic cubes on them. It just looks gorgeous! The mainboard is way too busy for my taste, I don't like the green colour scheme and there are multiple usability issues here. For example, the score track uses a mixture of western numerals for multiples of five and then but Japanese numerals for 1-4 and 6-9 which makes it tricky to for example increase your score by 17 points. The monk miniatures and worker miniatures are not clearly distinguished and only differ slightly in details and size. A number of minis also came seriously crooked.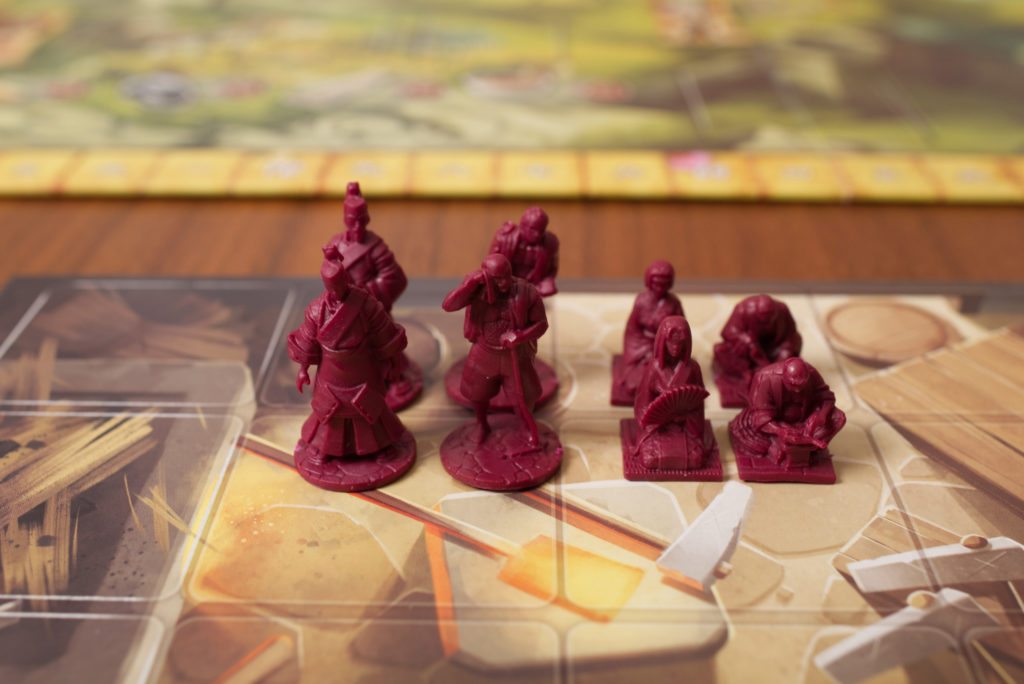 But make no mistake: as I said in the beginning, Shogun no Katana is a joy to play, I recommend pretty much everyone to try it out. But it seems more the joy of discovery, not continued play. Everyone I played it with was happy we did, but none of them is sad that it will be leaving my collection soon. For me, I would have loved for Shogun no Katana to focus more on its core, innovative puzzle and add mechanisms that integrate in a fundamental way with that puzzle instead of adding more and more on top of it …