The other day, while I was playing Barcelona, I was wondering: what made me fall in love with games like Grand Austria Hotel, Suburbia and or more recently La Granja. They don't have the most mechanical perfect designs. They have artwork I enjoy a lot, but they are no artistical masterpieces I would frame and put on the wall. What made me go "this is something special"? I think it was this hard to quantify je ne sais quoi, a mixture of being approachable and clever, never having a bad experience with them, but also having a very unique and endearing style to them. They have charm.
A couple of months ago, I wrote about Tiletum and how it – despite being mechanically brilliant – failed to produce much joy in me. I can appreciate it as a remarkable piece of game design, but for me it lacked a reason to want to play it again. Perhaps I have just played too many games with only a thin veneer of theme on them and I'm now looking for a story that's being told or at least an interesting setting or experience. So when a flood of images of Barcelona suddenly appeared on Instagram, they got me curious … curious and wary: would this be just another forgettable euro point salad with good marketing or something that will stand the test of time? Let's find out!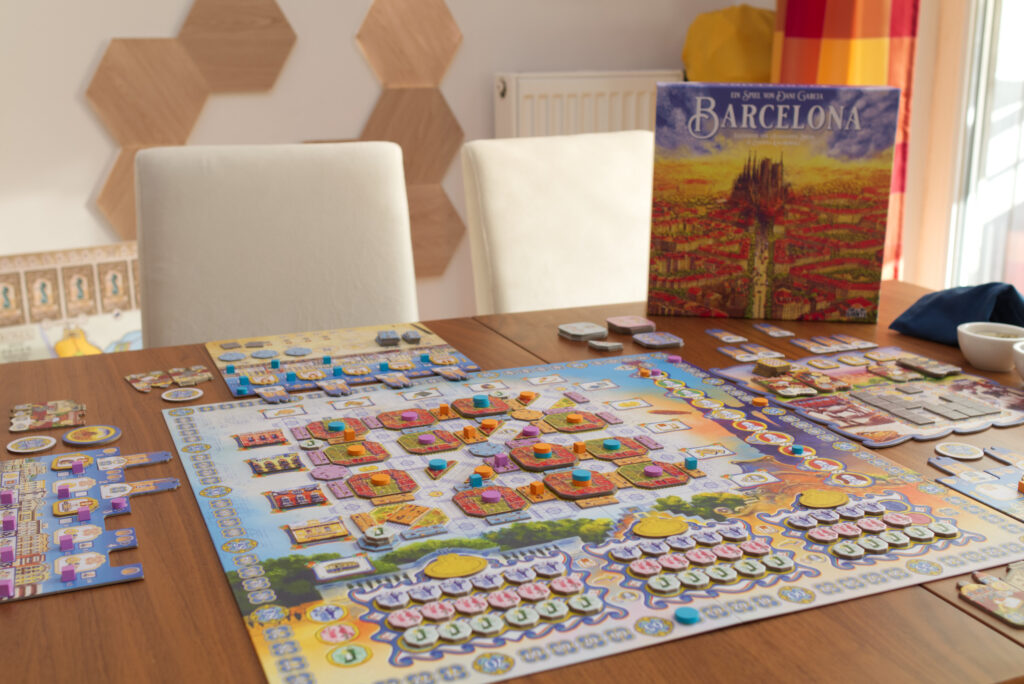 Setup
I must have been playing too many Kickstarter releases lately as my brain felt a faint wave of relief when I picked up the box of Barcelona for the first time: a normal sized box with a reasonably sized board inside it? No minis but good old wood and cardboard? No Ark-Nova-amount of cards? No insert? This sure feels refreshing! Beneath the striking cover and a good dozen of ziplock bags filled with components, we find the main board representing Eixample, Barcelona's famously grid shaped district we are going to erect. Each horizontal, vertical, and the single diagonal street are all associated with a unique action, all of which can be mixed up on repeated plays with the use of the included cardboard tiles. Where ever two or more streets meet lies an intersection that cuts the surrounding blocks of buildings into their recognisable octagonal shape. During their turns, players will select one of those intersections to not only select their two (or three with the diagonal) actions per that turn but also potentially trigger a couple of side effects. But I'm getting ahead of myself. During setup, the board stays largely empty except for three out of 14 intermediate scoring tiles that are drawn at random and show various criteria how to score (e.g. chains of own streets, number of gold coins). These are the Cerdà scoring tiles, named after the engineer that designed the iconic layout of the Eixample.
At the bottom of the board are three long tracks coloured green, red, and blue, split into three segments which are the timer of the game. During play, citizen tokens (which are extra thick cardboard, producing a pleasantly nice hand-feel) will be drawn from the included cloth bag and later placed onto the tracks according to their colour. Once the first is placed on the end of one of the segments, that segment's Cerdà scoring is triggered and the flipped over. Players gain VP based on the criteria shown on the associated tile and what the players have achieved up to this point (e.g. 1 VP per narrow street you have build). On top of that, the value is multiplied based on the the player's position on another element of the main board, the Cerdà track. By constructing buildings and streets, players will rise or fall down on this track, allegedly representing whether or not players build according to Cerdà's original intentions. But the theming is thin here, it's just a track to progress on based on collected rewards.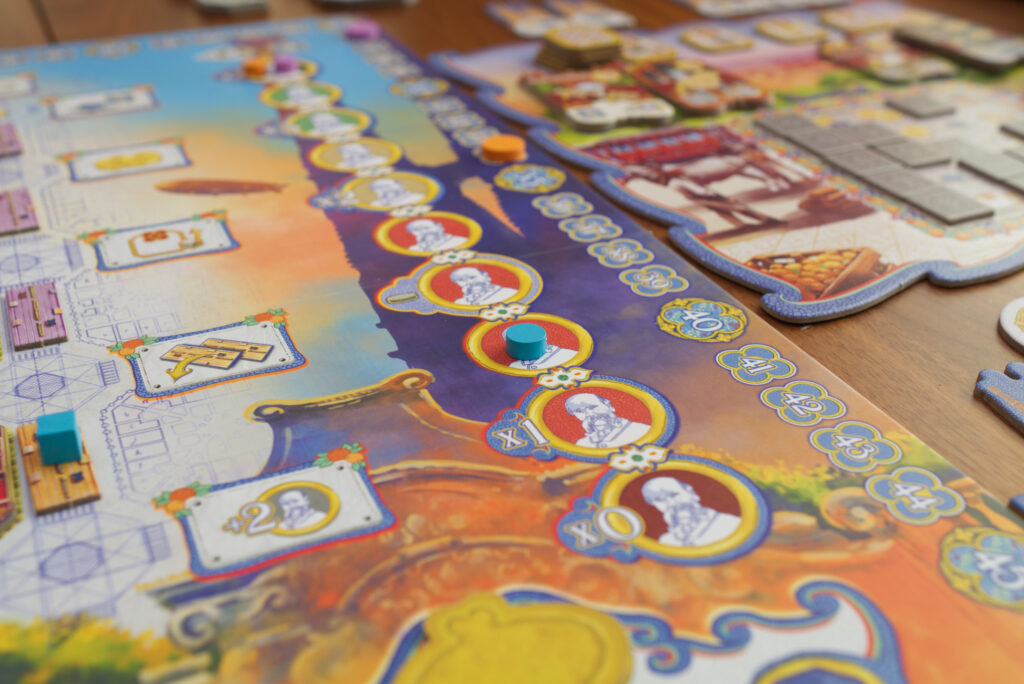 There is an additional smaller side board where a market of four "modernisme" tiles (=end game scoring multipliers) and "public service" tiles (=hefty one time bonuses that can be bought with money) can be laid out. The latter is another element that varies between games as only 5 out of 7 types of public service tiles are used. For each one, a small stack of same type tiles is formed with the most costly being on top. Also on this board is a grid of bonuses one can gain when placing cobblestones, another mechanism in the game we'll be talking about soon. Having a separate side board instead of integrating it into a larger main board was on the one hand a good choice for easier table layout. On the other hand, everything besides the cobblestone area could just as easily have been placed simply on the table next to the main board. I'm nitpicking here, but it kind of felt odd to me so I thought I'd mention it. There are also 16 Sagrada tiles, four in each category 1-4, that show various combinations of VP and other bonuses. These are laid out for everybody to see.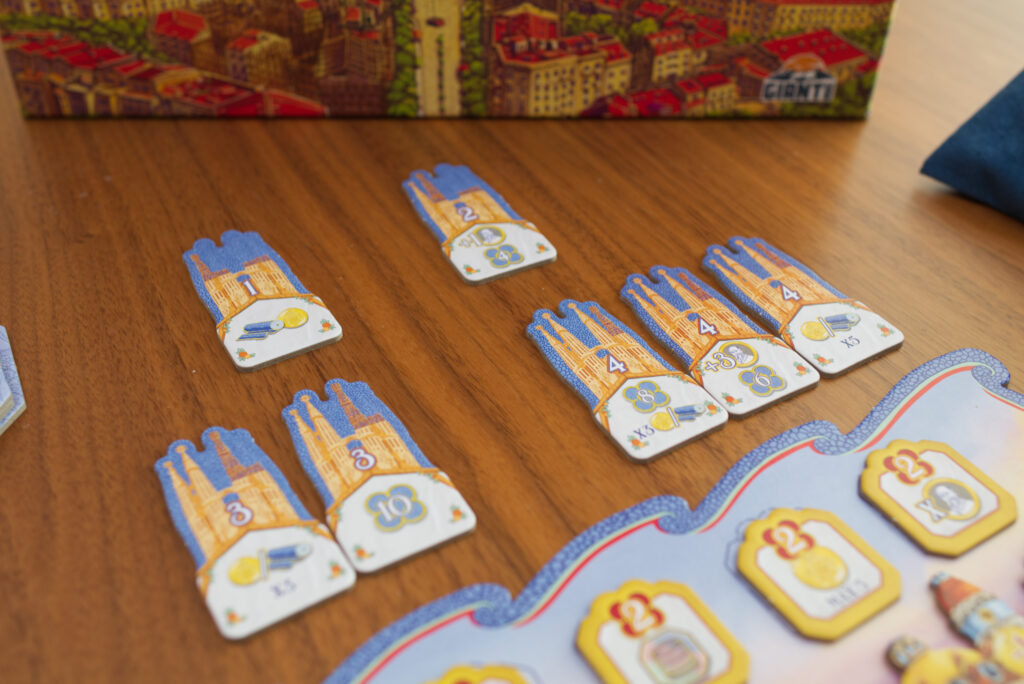 Finally, each player receives their own player board and places a good many tokens on there. From top to bottom, there is: the Sagrada track, a rather abstract mechanism where every few steps a player can select one of the remaining Sagrada bonus tiles to receive a combination of VP and resources; five slots for the Modernisme tiles and respective multipliers; five slots for tram passengers (more on them later); stacks for a couple of narrow and broad streets; five intersection tiles; a combined storage and cobblestone area; and finally spots to place building markers on. That's a lot of elements, but luckily each of the associated actions to place them is rather straight forward.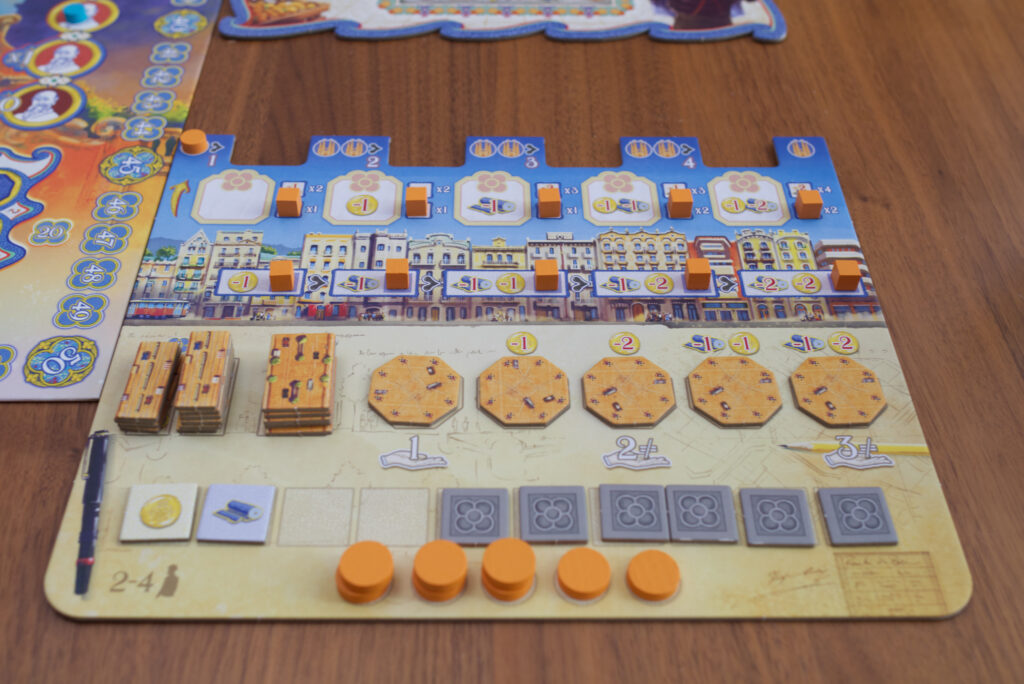 All in all, there is a little bit of sorting and placing tokens onto designated spots involved, but it isn't too bad. The one thing to remark here is that the player boards are a bit odd UX-wise: The five slots for building discs are split into three stacks of two discs and two slots with one disc each, but that information is only found in the rules, not on the board. Same for the two stacks of narrow streets which are not equal of height but 4 and 6. And the benefits of placing the various elements such as cobblestones are actually covered when placing the tiles on them during setup. E.g. one has to lift the next cobblestone to see how many VP it will score during end game scoring. In practice, none of these are problems but feel like a bit dated approach to board design and easily avoidable.
The Turn
With that out of the way, let's dive into the round structure. Each player receives two random citizen tokens at the beginning of the game and will draw new ones to signal the end of their turn. A turn beings by choosing an intersection and placing both citizens in a stack onto that intersection. Quite unusually, players can place anywhere they want, there is no adjacency rule or similar things players might be used to from other games. The only limitation is that they cannot select an intersection that is already occupied.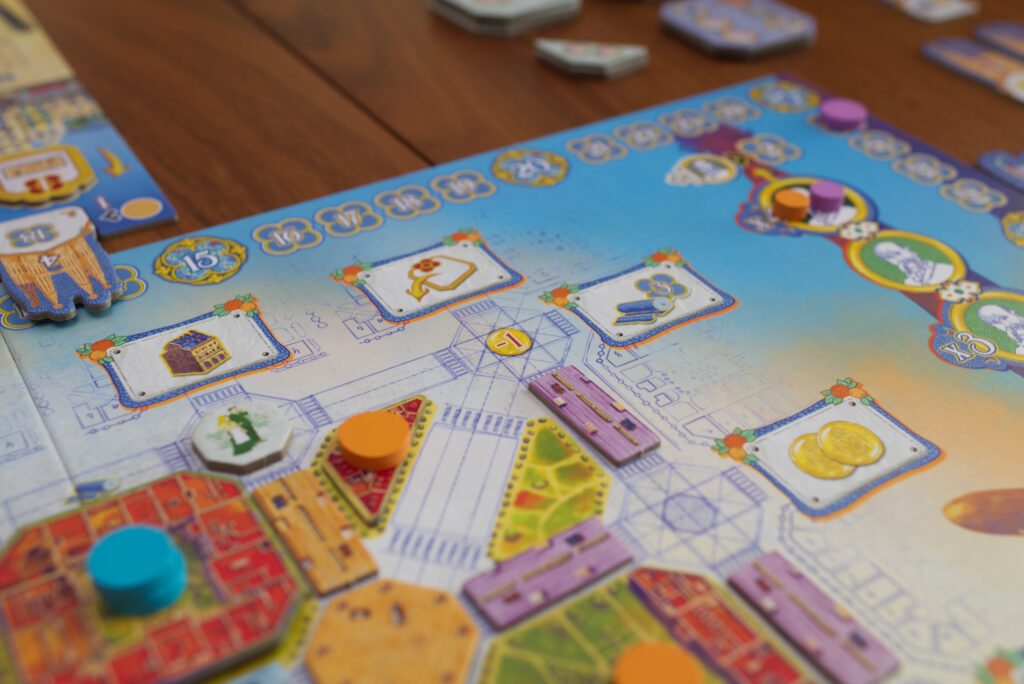 Which intersection to choose can be a tricky task as there are various consequences dependent on that one decision. The most immediate consequence is of course the type of actions the player will be able to execute that round as indicated at the end of the streets. However, there is a secondary, nonetheless important aspect to it: potentially enabling the player to construct a building. At the end of their turn, the player must construct a single building if they can which depends on the citizens adjacent to the building spot. There are four types of buildings: corner buildings require any two adjacent citizens, not matter if they are working, middle, or upper class. Same for the normal shaped level 1 buildings, but those also award one step up on the Cerdà track. Level 2 building also require two citizens, but one of them has to belong to the middle class. This type of building actually will move the player down on the Cerdà track but allow them to progress on their own Sagrada track. As mentioned before, whenever a player token jumps over a gap in the player's Sagrada track, they can choose one of the still available Sagrada tiles and immediately receive the bonuses printed on them. For the first gap, the player must take one of the tiles marked with a one, the second gap with a two, and so on. Of course rewards increase the further you get, but even the first ones can be a very welcome trifle of resources that can kickstarter your engine for the rest of the game. So there is a bit of a race for who can claim a particular Sagrada tile first.
Coming back to buildings, the most demanding buildings are the level 3 buildings. They require three adjacent citizens, one of which must be a member of the upper class, and award a whopping two steps on the Sagrada track and 7VP, but will also move players down two steps on the Cerdà track. Apparently Cerdà wanted more parks and less densely packed blocks of buildings. But why upper class citizens should prefer to live in more densely packed blocks is a bit suspect to me.
Note that all the citizens required have to come from intersections adjacent to the building spots and if there are multiple citizens at one intersection, only the top one can be used! Those citizens are then removed from the board and placed on their respective tracks at the bottom of the main board. So careful placement of new citizens at the start of a player's turn not only decides the actions for that player, it not only influences what that player will be able to build at the end of their turn, but also where and what the following players will be able to do: First, that intersection is blocked with citizens and therefore that combination of actions cannot be selected until they are gone. But also those citizens might be placed in an area where there is no possibility for the next player to build anything because all surrounding blocks are already occupied with maxed out building levels. One thing that makes things easier is that lower level buildings can always be overbuild with higher level buildings.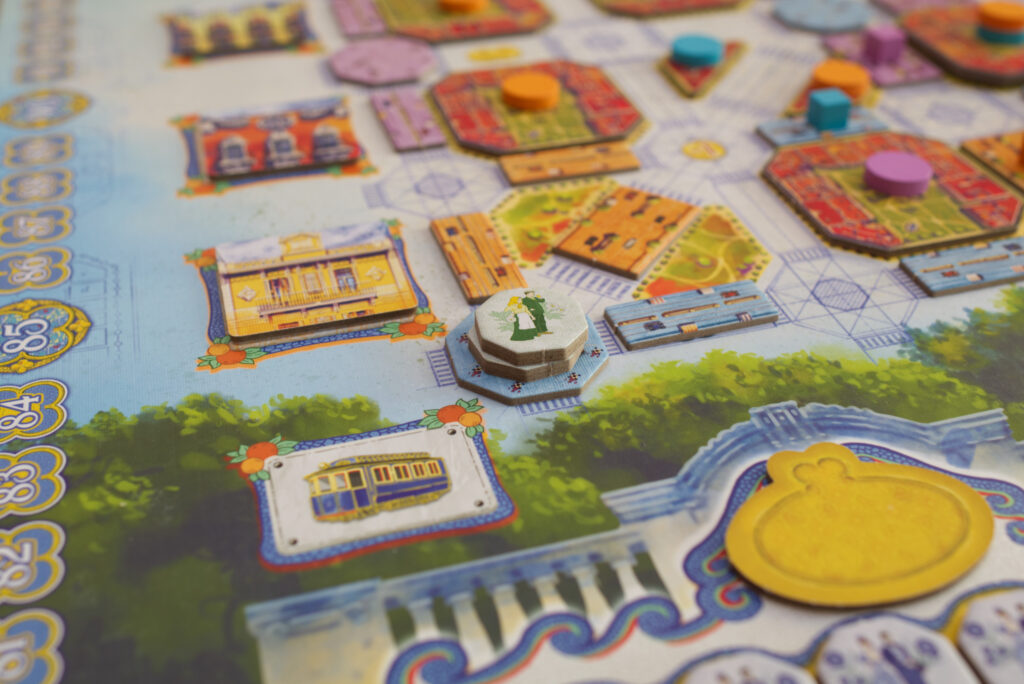 At this point, you might be wondering: what is the big fuss here? Sure, you'll loose a few bonuses by not building but there will surely be situations where picking the right actions is more valuable. True, there are … and there aren't. In addition to all the bonuses printed on the buildings themselves, a player also gains VP simply by the fact that they have built at all! On the three tracks of citizens, there are some spaces that have increasingly high number of VPs printed on them. After removing the citizens required to build a building and placing them on the tracks, the active player gains VP based on the lowest printed number of VP that is still uncovered. This starts off small with only a few points in the first segment but towards the end is more in the 15-20 VP per building territory. And that is on top of whatever other bonuses the building awarded the player. So while it might not hurt as much to not build in the beginning, it definite starts to hurt quickly!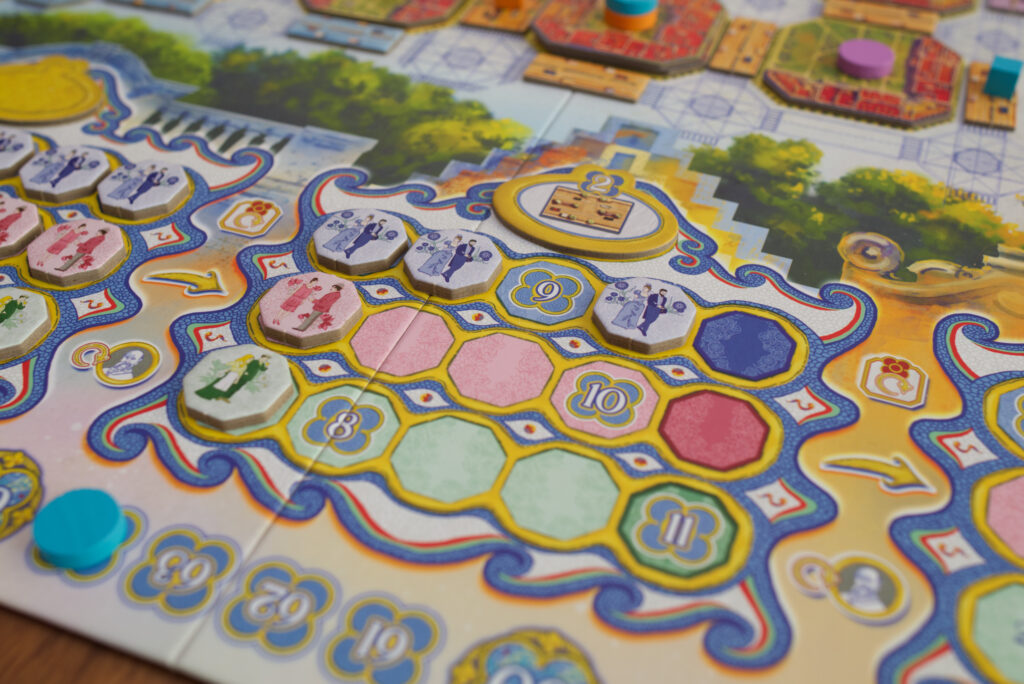 All of this creates an interesting inverse correlation of choice: in most games, opportunities open up the longer one plays. In Barcelona, players start with almost complete freedom but things get tighter and tighter the longer they play. Building spots fill up, certain actions might have already been maxed out, turning those streets completely useless to that player, etc. But mostly players get more and more limited to choosing intersections that are next to already existing citizens (placed by other players) as otherwise they will miss out on those juicy, juicy points for constructing a building.
The Actions and Mechanisms
With the core dilemma of the game out of the way, let's look at the various avenues for scoring and gaining resources. First of all, there are only two types of resources: gold and cloth. Every resource token a player gets has to be stored inside the storage area on their board which is initially limited to just four free spaces. That's not a lot to work with! By taking the cobblestone action, a player can remove their left-most cobblestone (freeing up more storage space) and place it on to a bonus of their choice in the cobblestone area on the side board. The only restriction here is that each stone has to be placed next to an existing one. In addition, each build cobblestone unlocks an increasing amount of VP the player will receive at the end of the game. Think of this as a mini side-game that has nothing to do with the main board: free up storage, place tile, get a bonus. Those range from a single resource to free actions to construct streets. The whole idea of having limited space that a player needs to work for to enlarge it immediately reminded me of Concordia.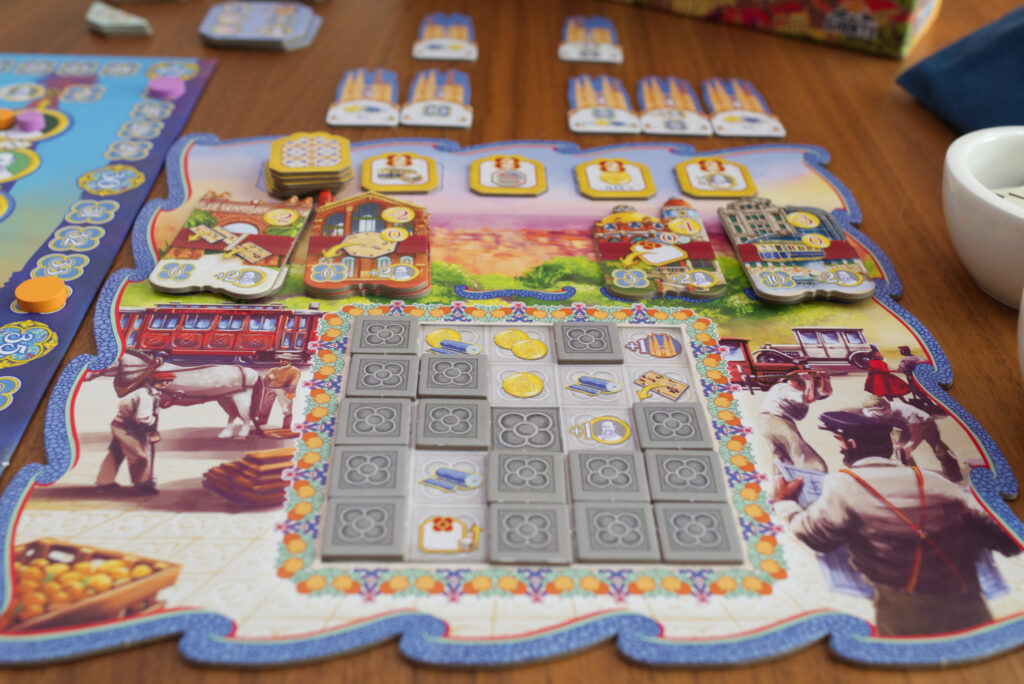 Speaking of streets, there is an action to build two narrow streets and a different one to build a single wide street. Again, streets can be placed anywhere you want, no adjacency rules or anything. However, when placing a street, the player gets VP based on the number of directly connected streets (of any colour) in a line, 1-4VP for a narrow street, double for wide streets. There are also various resources and VP bonuses printed on the board, so streets are a great way to gain much needed resources in the early game economy.
Speaking of resources, there is an action to get two gold and another to get a cloth plus 3 VP. They are as straight forward as they sound. There is also an action to advance two steps on the Cerdà track, but most steps are usually gained as side effects of depleting a stack of tiles on the player board (e.g. building markers, streets), covering a bonus with a street, or buying public service buildings. That is yet another type of action that is associated with exactly one of the streets in the game. Public buildings come in stacks of three, with the top one costing 3 coins and awarding 10 VP and the tiles underneath getting cheaper but also less lucrative. Regardless of price, all such tiles award 2 steps up on the Cerdà track (which is probably the easiest way to advance there) and come with a one time action depending on the tile (e.g. a free street building action, placing an intersection tile without paying the coin costs). Public service tiles are great, but 3 coins is a hefty price to pay. Since there is no round-by-round incoming, those coins have to be worked for.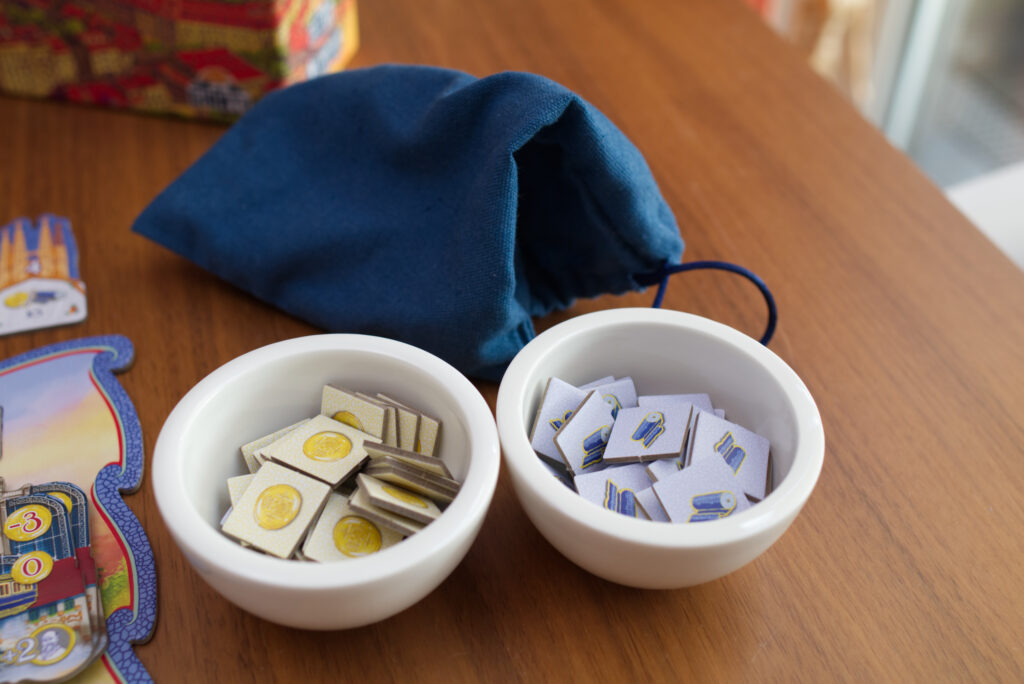 Almost there. Building intersections allows players to get bonuses when citizens are placed on them and gives an immediate bonus based on the bonuses printed on the board, similar to streets. The tram action lets you move your single tram piece (which is quite cute) over the board and place a passenger from your board on to that street. This not only re-scores the street but also gives the player the action of that street for free and there is a bonus at the end of the game the more passengers a player was able to place. The downside of trams are that passengers require an increasing number of resources to be placed and players need to make sure they previous placed streets in such a way that they make good candidates for the tram action.
Finally, there are the Modernisme tiles. Again, the thematic integration is a bit weak here. They are similar to the Cerdà scoring tiles in showing a criteria and a VP value for each instance of that criteria (e.g. 3VP per block with your corner buildings in them). There is one action to pick one up from the market and place it on your player board. There is another action with which the slot those tiles are placed in can be upgraded so a higher multiplier is used. Modernisme tiles are the higher risk higher reward strategy because the tile that matches your strategy might come up at the wrong point or you buy a tile and then the other players cross your paths and prevent you from scoring a lot on that particular criteria.
That was a whirlwind tour of all the actions and I've of course glossed over a lot of details. In general, all of them are rather easy to understand and they feel like a repeating theme. Like building streets is possible via the respective actions, but the exact same thing can happen via a public service tiles or the cobblestone bonus. If a player for example needs cloth, there are multiple options: use the dedicated cloth action, build a street and cover a spot with a printed on cloth bonus, build a cobblestone over a cloth spot, take a Sagrada tile with cloth on it, or – if available – buy the public service building that provides cloth based on number of blocks one has build in already. It's usually not the question IF you can make something happen, it's more a question how efficient you can do it and how many additional bonuses you can pick up on the same tour. And keep in mind all of this usually needs to happen by placing citizens in such a way that you can build a building at the end of the turn!
Game End
The game ends once the first citizen has been placed in the final column of the citizen tracks. The current round is completed such that every player had the same amount of turns. One thing to highlight here is the pacing of the game. Based on which citizens players draw and use to build, the first Cerdà scoring can (and usually will) happen surprisingly quick, only a few turns into the game. Since the scoring is done at the end of the active player's turn and not the end of the round, that timing can be quite crucial and having one more turn before the scoring can make a big difference in victory points.
Barcelona overall plays in three "waves": the first Cerdà scoring hits players earlier than expected, the middle game takes the longest chunk of the experience, and the final Cerdà scoring at least feels like happening quickly after the second because players are more restricted to a few sensible options and the game flows quicker. Speaking of which: a lot of people might be worried if the huge number of options to choose from (25 intersections minus those occupied by citizens) might induce a lot of AP. At least in my experience, that wasn't much of a problem. There might be 1-2 times in a whole game where someone really has to make a tough decision between a couple of optimal actions and better building possibilities that requires some thinking, but it isn't to a level where the game grinds to a halt. Most of the times it's quite the opposite and players can figure out their next move during other players' turns.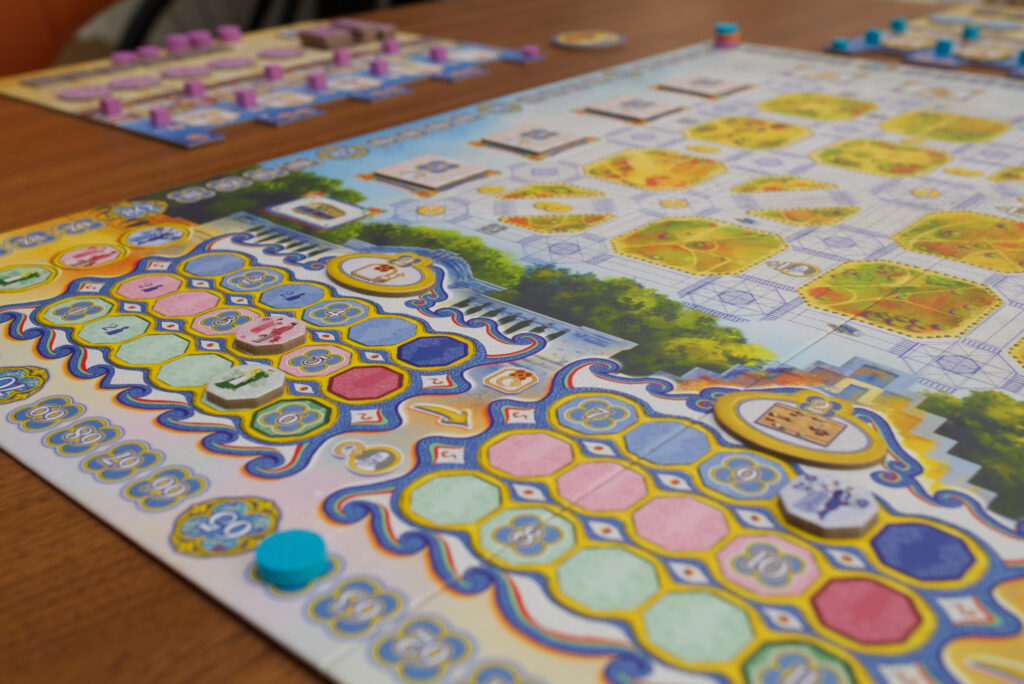 The biggest surprise when playing Barcelona is the staggering amount of VP players can achieve. Even in first games, 200+VP is not unusual, on repeated plays the 300-350 range seems to become normal. Recently, I played solo and managed to earn 419 (!) points, something that felt so incredulous that I had to double check it. Where the majority of points come from is a bit difficult to say. A really good Cerdà scoring can provide 40 VP alone and at least for the second and third one players actually have enough time to prepare for them. Constructing buildings of course provides a lot of points but Modernisme tiles – if done right – can also be huge. I would say both constructing buildings and good Cerdà scorings are a necessity to win. For the rest it's the typical point salad: you'll need to figure out what the most opportune thing is based on the current board state and what tiles are available in the various markets. There isn't much of an "engine" one can build, it's more that actions usually get stronger the more often you take them (e.g. more rewards the more intersections have been built).
An interesting side aspect: after a Cerdà scoring, all players above a certain level get reset down to the starting level. So players constantly have to work for Cerdà's favour. Also the Cerdà scoring will clean out and refresh the market of Modernisme tiles. I had multiple times the situation where a tile I needed was in the market but before I could pick it up, a Cerdà scoring was triggered and the market refreshed. The whole situation of the citizen tracks and how players can influence the timing of when scoring will happen is quite interesting, though subtle. There are discussions in the BGG forum of whether or not the first player is at an disadvantage because they cannot build on the first turn or more at an advantage because they will always have had at least as many turn's as the active player before the Cerdà scoring happens. Personally, I haven't noticed anything concerning either way.
Solo Mode
Barcelona comes with a solo mode that is surprisingly minimal in components: just eight double-sided cards and a tiny meeple figure. The automa will move its meeple to decide where to place citizens, then perform a few actions similar to what a human player does (e.g. place streets) and then build a building if possible. The execution of actions isn't particularly smart though. For example, it will always place streets next to its meeple instead of where they would provide the most VP. Also it first moves its meeple without knowing what citizens it will draw which is the opposite of how a human player would decide where to place them. But it's nice that it's not a beat-your-own-score solo mode and that the bot is actually scoring somewhat normally.
Overall, I would say it works well. A single play through takes me approx 45-60 min which is a good length. It's quick to execute and usually produces 1-2 situations per play where I can actively prevent it from constructing a building – which will cost it a lot of points. But for the most part, it is more an "in your way" automa that gets some unusual advantages to stay competitive with the human player. For example, it never has to move down on the Cerdà track when it constructs a building. And it does score the Cerdà scoring in a different way from the human player. The way it acts also shifts the balance of the actions a bit: it becomes less dangerous to for example build 3 roads in a line and leave the fourth spot empty, something human players would immediately snatch up for the 4VP scoring bonus. And intersections seem even less powerful in solo mode than they do in normal play. Most importantly it completely ignores the actions associated with each street, removing the biggest spatial component of the game.
While there are a few ambiguous aspects in the solo mode's rules, its biggest problem is that it quickly looses the challenge aspect of it. There are three levels of difficulty, but although I switched to hard pretty quickly, I don't think I've ever lost to it. Don't get me wrong, it was still enjoyable to play, but Barcelona as a solo experience faces a common problem with many solo modes: what's the reason to get it to the table? The variety in which street is associated with which action and which three Cerdà scorings will happen is interesting, but they don't mix up the game enough to provide a fresh challenge once the puzzle on how to score big is cracked. It's a bit of a shame because I think this could easily have been solved in a number of ways. For example, there is an "achievement sheet" in the box where players can tick off various achievements like having build all intersections. This is completely unmotivating for me. If the publisher would instead have added it as a set of cards, solo players could have drawn 2-3 at the start of the game (e.g. win but you also must have built all intersections) and thus would have had a new challenge with every play. Or it could have used the action tiles that are intended for the variable setup and at random turned over 2 so those actions aren't available. Would be interesting to play Barcelona when one cannot use the street building actions at all for example.
So I would say yes, I can recommend Barcelona as a solo only experience, but expect a drop of excitement after 5-6 plays and even less likeliness to get it to the table for solo after approx 10 plays. Hopefully the publisher or community will come up with some good challenges or rules tweaks that will keep the solo mode fresh.
Expansions
There exist there mini-expansions that those that pre-ordered the game from the publisher received as a bonus. One introduces level 2 and 3 corner buildings, which breaks the normal limitation that corner buildings cannot be overbuild. The second changes the first-in-row building bonus. The third expansion adds a new Modernisme and matching Cerdà scoring tile for having the top disc on a building. I don't own them so can only comment in a limited fashion. The variable row bonus seems weird because it could have been as easily printed on the backside of the tiles that are included in the base game. For the higher level corner buildings, I'm not sure if playing with them will not make the game a bit less tight. The new scoring tiles sound nice, but I don't think one will notice not having them.
Overall, I'll try to pick them up if I see them in Essen or so, but otherwise I would say they are purely optional and non-essential.
Conclusion
Truth be told, I was curious but highly sceptical when I first read about Barcelona. While I liked the theme and am always up for a good city builder, it seemed to be just another point salad with too many different paths of scoring and disjointed mini-games. But Barcelona has really grown on me. During my first play, it had let me a bit cold and chances were high I would be re-selling it quickly. But I kept coming back to it and then something kicked in I'd affectionally like to dub "the Woodcraft Syndrome".
Barcelona is surprisingly smooth and pleasant to play, but there is a challenge lurking in the back: what's a good score? The game comes with 100/200 and 300/400 VP tokens which initially made me wonder if the latter is really needed. Well, at least the 400 seemed to exist more due to the fact that they had to put something on the reverse of the 300 token, but recent plays showed: yes, within only a couple of plays, I was able to almost double the amount of points I can score in this game. That feels quite surreal somehow. I noticed similar effects when playing with new players. Even though they did remarkably well on a first attempt, I managed to lap them on the score track. It's so extreme that I wished the game came with a handicap system.
The problem with such efficiency puzzles is that they are enticing while they are fresh but much less appealing once they are cracked. While Barcelona has multiple elements of variable setup, they didn't seem to mix up the game quite strong enough to keep things interesting on their own. During one play, the get-2-gold action was on the diagonal which made money somewhat tighter, but there were still lots of avenues to get it. So while the game's system itself is great, the most interesting moments happen when players must choose between a really good action-combo on the one side and on the other not leaving a huge scoring opportunity open for the next player. And these only come up once players have mastered the basics and progressed towards more advanced play.
Don't get me wrong: Barcelona is a pleasure to play and one of my favourite gaming finds so far this year. It's just that it feels like a good game when it was in arms reach of being an outstanding game. The level of combo-ing is good and still has an ease of play to it, unlike Tiletum where it's so tight and combo-tastic that it can make your head spin. Its theme is lovely and for the first time in a while I really liked the flavour side notes in a rule book that gave historical context. I almost wished they had added some reading recommendations to the game, similar to what Cole Wehrle did in John Company: Second Edition.
I also like the sensibility of it all: it's just a good game in a normal sized box without tons of plastic and for a fair price. But it has its quirks that make me wonder what it could have been with one more iteration of development by the publisher. Could the public service tiles for example have been integrated into the city map somehow? It's a bit of a shame that all the buildings have no effect once they are built and the park/building graphics on the back have no meaning in the game except to indicate the level of the building title once it is flipped. The tram feels a bit too loose and hardly ever restricted in its movement, the cobblestone and Sagrade mechanism feel artificially added on top with no relation to the city, the row bonus tiles have no effect once they are flipped. There is so much potential for further improvement here, I really hope the author might consider adding an expansion and more tightly integrating all those elements. Still, what is there is already pretty damn good!
Two things to be aware of: 1) this is not a city builder, it's more about positional power play, and 2) there are elements of luck. The Modernisme tiles are not completely balanced and the one matching your strategy might just come up before the market is reset due to a Cerdà scoring. Mostly though the overbuilding rules infer a dependency on which type of citizens one draws. Want to build a level 2 building but simply don't draw a middle class citizen? Tough noogies. There also seem to be slight, almost minimal balancing issues with intersections not really paying off and it being too easy to advance on the Cerdà track, which causes the +2 Cerdà steps action rarely being used. But somehow it all contributes to Barcelonas charm. It isn't a perfectly calculated euro, it has a soul. Combined with its looseness and the few restriction it imposes on the players plus a multitude of ways for how one can reach what one needs, this makes it just a pleasure to play. And in the end, that's what counts. It will probably go on the shelf for a while now as it's missing that one thing that makes me go "oh, I have to continue explore this". But when it will come off the shelf, I know I'll have a good time.